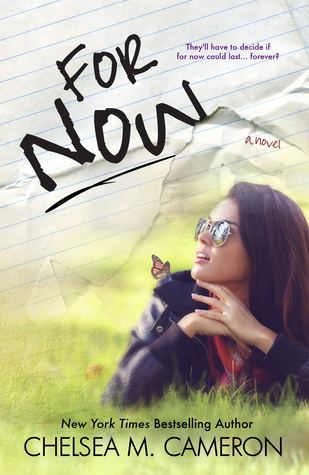 Genre: New Adult Contemporary Romance
Release: November 5, 2014
Blurb:
Two people. A relationship with no commitment. What could go wrong?
Javier Cruz definitely isn't relationship material, but that suits Hazel Gellar just fine. She's not a girlfriend girl and doesn't plan on ever being one.
But after a mind-blowing, bed-breaking night, she knows once isn't going to be enough. Fortunately, Javi feels the same way. And it's not just the sex. Javi is funny and complicated and Hazel loves being around him, even when he drives her nuts.
Will she and Javi make the choice to be together for longer than just right NOW? Or will their hangups about romance be the end?
Review:
Okay, so I'm just going to start by saying that if you're a fan of New Adult you need to be reading Chelsea's books. My first New Adult book was a Chelsea M. Cameron book from her Fall and Rise series (GO READ THEM NOW!), and I haven't looked back since. She is great with combining humor, drama (basically all the feels) with characters that pull you in with their crazy lives, entertaining conflicts and sizzling between the sheets, bed breaking sex scenes, and For Now delivers.
Now I must confess, and shame on me, but I have not read For Real, book 1 in the Rules of Love series. Yes, I know… I'm kicking myself for it, but it's currently sitting in my Kindle just waiting for me to dive into all its literary goodness. So now that that's off my chest, here's what you need to know about For Now: Javi and Hazel are kickass. Not only do they have cool names, but they are fun, flirty, and as I mentioned before… their sexy times are so amaze they really did break a bed. So, yes, I'll have what Hazel's having… please?! Also, it's a pretty straight forward read. There's no crazy drama to frustrate you, just two cool, normal, somewhat closed off people, navigating life and love.
Anyway, Hazel and Javi go through the typical let's just play this cool and be fuck buddies kind of thing, but like most fuck buddy situations it doesn't go as planned. Since they are both so stubborn they struggle a bit with opening up, but once they do they get so freaking cute I can't even! I mean, those cutsie pet names, they may have been said as jokes, making fun of silly couples in silly love, but I loved them. And a man who can cook, and cook extremely well? So hot, so sexy! And for those of you who have read For Real you'll enjoy reading more about Shannon and Jett—now those two are sweet, so sweet I've got a toothache and I don't even care.
Written Revelry gives For Now 4 out of 5.
Happy Reading,
A
Giveaway!
a Rafflecopter giveaway
Click.Tweet.Buy.
Chelsea M. Cameron
@chel_m_cam