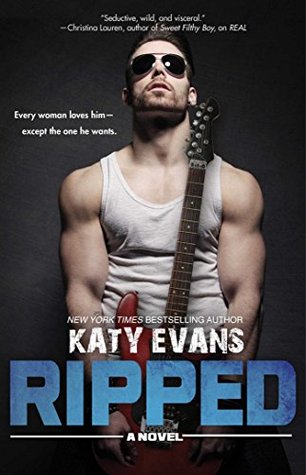 Genre: New Adult Contemporary
Release: December 9, 2014
Blurb:
Every woman wants me--except the one I sing for.
Seattle shakes with anticipation: they call it the concert of the year. They say girls are getting pregnant just thinking about my band being in town.
But when you love a girl, you don't leave her with nothing but a ring and a promise. Any man with half a brain should know.
So what did I expect my girl would do when she saw me again?
Well, for starters, she loathes our music. Particularly the song I wrote about her.
When I sing it, the stadium is in an uproar. Thousands of fans scream my name like I'm a god--but yeah, not her. Crystal clear: the girl's not happy to see me.
Black hair, black boots, a bad attitude, that's her -- Pandora Stone is a freaking man-eater and she's out for my blood.
Let her come at me. Because I'm out for her heart and, this time, there's no way she can stop me.
Review:
Ripped,
book 5 in the Real series, was such a fun, hot read and I'm kicking myself for not reading the previous books in the series. Though with
Ripped
being a standalone readers should be okay if reading out of order.
Pandora and Kenna had the kind of romance in high school that had to stay hidden. She was the awkward goth girl who got bullied, he was the good looking bad boy who stood up for her. She was the daughter with a dead father and an emotionally stunted mother who was the lawyer putting his father in jail drug reasons, among other things. It was obvious Kenna didn't like being kept a "dirty" secret, but Pandora didn't want the one good thing in her life to be taken away by her mother, but of course, in the end, that is exactly what happened.
Flash forward to Pandora still living at home under her mothers thumb as a grown woman and Kenna out in the world as a front man for an incredibly famous band. This is where the book begins and I couldn't quite read fast enough to see what was going to happen. After being completely gutted by Kenna walking away from her all those years ago, Pandora wants revenge. She hasn't quite learned how to let go of all that bitterness, so she comes off as a man hating bitch to everyone who knows her. When she finds out that Kenna will be back in Seattle with his band, she decides to humiliate him in front of thousands of people, just like he humiliated her by leaving back in high school, but of course she gets caught and the consequences of her actions lead for to going on tour with the band.
I usually don't get into the whole man-hater thing, but Pandora totally sold me. This story was hot, hot, hot, yet heart warming. Katy Evans wrote in a way that had me completely enthralled. I felt Pandora's heartbreak and Kenna's frustration. Sexual tension would be high, dirty mouths racing, then all of a sudden it would turn cold, then later sweet. Their back and forth emotions in the beginning were frustrating, but aren't most love stories that way? Not everything is perfect for them, but I enjoyed seeing these characters grow into themselves. They both learned the truth from all those years ago and were able to stand up for themselves and each other and that was all they ever needed.
Happy Reading,
A
Katy Evans grew up with books and book-boyfriends until she found a real sexy boyfriend to love. They married and are now hard at work on their own happily ever after. Katy loves her family and friends, and she also loves reading, walking, baking, and being consumed by her characters until she reaches "The End." Which is, hopefully, only the beginning…