Blogging used to be an everyday thing for me, but life, as it often does, got in the way. I'm sure a lot of you can relate! After making the decision to go back to school, my love for reading and reviewing books got lost in the fray. It was difficult to juggle school, my daughter, and blogging that writing my weekly posts became more of a chore rather than a form of expression and fun.
I'm happy to report that my time off from blogging has renewed my love for reviewing and blogging! I've since learned how to juggle my time and priorities, and have even added event planning to the mix. After some thinking, I've decided to create a new blog instead of bringing CLNB back. This is mostly because I wanted to start fresh; my literary interests aren't so singular anymore. Yes, of course I still love chick lit, but I've been reading a lot more new adult and romance, along with its subgenres; contemporary, erotica, urban fantasy, suspense, etc.
Written Revelry is all about my passion for reading and sharing that passion with others. Here's a little breakdown:
Written

(verb): A past participle of write- mark on a surface, compose, etc.
Revelry

(noun): Lively and noisy festivities.
If you look up the definition of revelry it also includes, "especially when these [festivities] involve drinking a large amount of alcohol," but I liked the simple party aspect of the word. When I get my hands on a good book I have the need to share it right away and talk about it in great detail. That involves speaking extremely fast, using lots of hand gestures, and basically wanting to throw my own little book club party on Facebook messenger with my cousins.
During my blogging hiatus I read a lot of books, I mean A LOT of books, that I'd love to include on Written Revelry. Many of those books you may have already read, but I'm excited to share my take on them, so bear with me. Along with those reads, I have a huge pile of new books that will be releasing soon and there's nothing I love more than discovering a new book, so keep an eye out for those as well!
Anyway, I should probably get back to reading, or watching the Fifty Shades of Grey trailer couple 8 more times!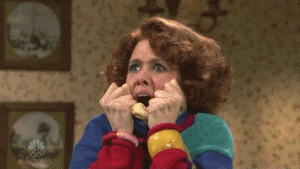 Happy reading,
A