Genre: New Adult, contemporary romance
Release: August 25th, 2014
Blurb:
If there's one thing Cleo Reynolds knows, it's that she's not into Adrian King.
The son of a model with the looks to prove it, the experienced author of her school newspaper's sex advice column, the cocky playboy with a hint of darkness. That Adrian King.
Nope. Nuh-uh. No way.
The problem is, he's very into her.
After accidentally flashing him, and slightly-less-accidentally-but-still-totally-unintentionally making out with him in front of the whole class, she expects to be called crazy. Instead, he asks her out.
Cleo's determined not to end up as another notch on his bedpost. Except she hasn't done…you know…it in a while. (Read: ever.) And as a girl who pays her tuition by writing all the sex scenes in her roommate's bestselling romance series, the lack of inspiration has served up a fat slice of writer's block.
Until her roommate proposes that Cleo and Adrian act out all the steamy scenes in her book.
It's just research. No feelings involved.
Nope. Nuh-uh.
No way.
Review:
If I had to pick one word to describe/represent Adrian Lessons it would be foreplay. Yes, foreplay. Holy crap… That was some of the hottest build up that I've read in a while. Most books get right down to business, which, of course, I'm more than okay with, but this foreplay was crazy good. Just when I thought Cleo was about to combust, with me right along with her, the sexy time commences and boy was that intense… and chocolate-y.
Besides loads of sexual tension, frustration, and orgasms, Adrian Lessons had me cracking up. Cleo is funny, quirky, and weird… in a good way. She says the most random things that have you scratching your head, but then agreeing with every word. She says whatever comes to mind and, for me, that quality made her a loveable character. And Adrian, well Adrian can be full of himself at times, but can you blame the guy? He's drop dead gorgeous, can have a girl screaming with pleasure in seconds, and has a heart the size of Texas. So for that, I can forgive his cockiness. As far as secondary characters go, Cleo's best friend and roommate Marie is super cute and a bit of a voyeur, or something close to it. You see… Maris writes romance novels and Cleo writes the sex scenes for her because Marie is a shy Catholic girl who blushes at the word "sex." But for being a shy Catholic girl she sure doesn't mind watching Adrian and Cleo enact some of the scenes from her book… for inspiration of course. I hope we get to hear more about Marie in the future! *hint hint* *nudge nudge*
So with all the awesome humor and sexual activities going on there was only one thing missing for me- when Cleo's crush/lust turned into more. The whole double date with her sister clued us in to how she felt about Adrian on a level other than sex, and with Adrian we knew his feelings for her from the beginning and why, but I just wanted a bit more from Cleo. I think a lot of Cleo's humor shadowed her true feelings throughout a lot of the book, but hey, it's fiction, it was funny, and I still enjoyed the story!
As far as first books go, I think L.A. Rose did a fantastic job of reeling her readers in with flaming hot foreplay and laugh out loud moments.
Written Revelry gives Adrian Lessons 4 out of 5 and a little Cleo and Adrian pool action for funsies!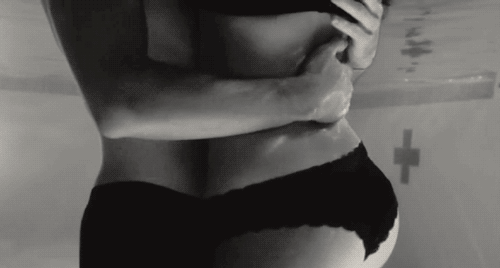 Enter to win an ebook copy of Adrian Lessons by clicking the link below!
Happy Reading,
A
Click.Tweet.Buy.
Facebook: L.A. Rose Books

Twitter: @larosebooks
Barnes & Noble
Kobo