Genre: Erotic Romance
Release: August 26th, 2014
Blurb:
James has finally pushed Karina beyond her limit–not her limit for kinky sex play, but for his extreme secrecy. She has had enough and breaks things off. But James won't give up on Karina and he will do whatever it takes to get her back. He's ready to share his deepest, darkest secrets, but is Karina ready to hear them? When James is blackmailed by an unscrupulous music industry executive, he must give in to unreasonable demands or risk exposure of his and Karina's secret sex life… a sex life that keeps getting hotter! Will Karina and James's love be strong enough to withstand the many obstacles being thrown their way?
Review:
Sooooo… This is yet another review I've been sitting on for awhile.
When I read Slow Surrender, the first book in the Struck by Lightning series, I was hooked. The characters were mysterious, flawed, mostly honest (*nudge James*), and the sexual tension between James and Karina was off the charts. Like, seriously off the charts! Slow Seduction was a little darker, a little sexier and introduced a hunk of a man Damon. I was convinced he was going to be important, as in Karina giving up on James important. So, of course, I was hooked again into the world of Struck by Lightning. Then came Slow Satisfaction…
I feel like I waited a lifetime for Slow Satisfaction to be released. Cliffhangers never really bothered me, but by the end of Slow Seduction I was itching to find out what the eff was going on! Who the hell is Ferrara? What's with James' games and secrets? And, wow Karina is a whole lot kinkier than I thought she was. Also, who know the girl could dance? Though all those questions are answered in Slow Satisfaction, I, well, wasn't completely satisfied with the book. Everything tied up nicely in the end; maybe a little too nicely. James opens up about everything to Karina, Karina's mother completely changes her tune and is now tolerable, and Ferrara is exposed, but nothing really happens to her.
For me, the Ferrara thing at the end is what really confused me. Everything happened so fast that it felt rushed and I didn't understand what the

consequences

were for Ferrara. She is one evil bitch and I wanted to see her get nailed for all she had done to them. And Pascual? Where did you come from, bro?
Anyway, as a whole, I enjoyed this series. Struck by Lightning opened my eyes to the whole BDSM community a lot more than other books I've read. Who knew a marble could be used for more than just a child's toy? Or that a lot of people are into the 24/7 slave, pet, and "rape" scene? And that harness at the end?... That was different.
Now that James and Karina's story is over, I'd really like to go back to London to hear more about Damon. He and that club are something else… and it's pretty fascinating what they get into there.
Written Revelry gives Slow Satisfaction a 3 out of 5!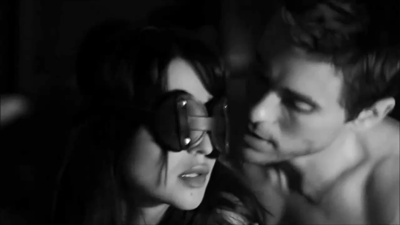 Happy Reading,
A
Click.Tweet.Buy.
Cecilia Tan
@ceciliatan